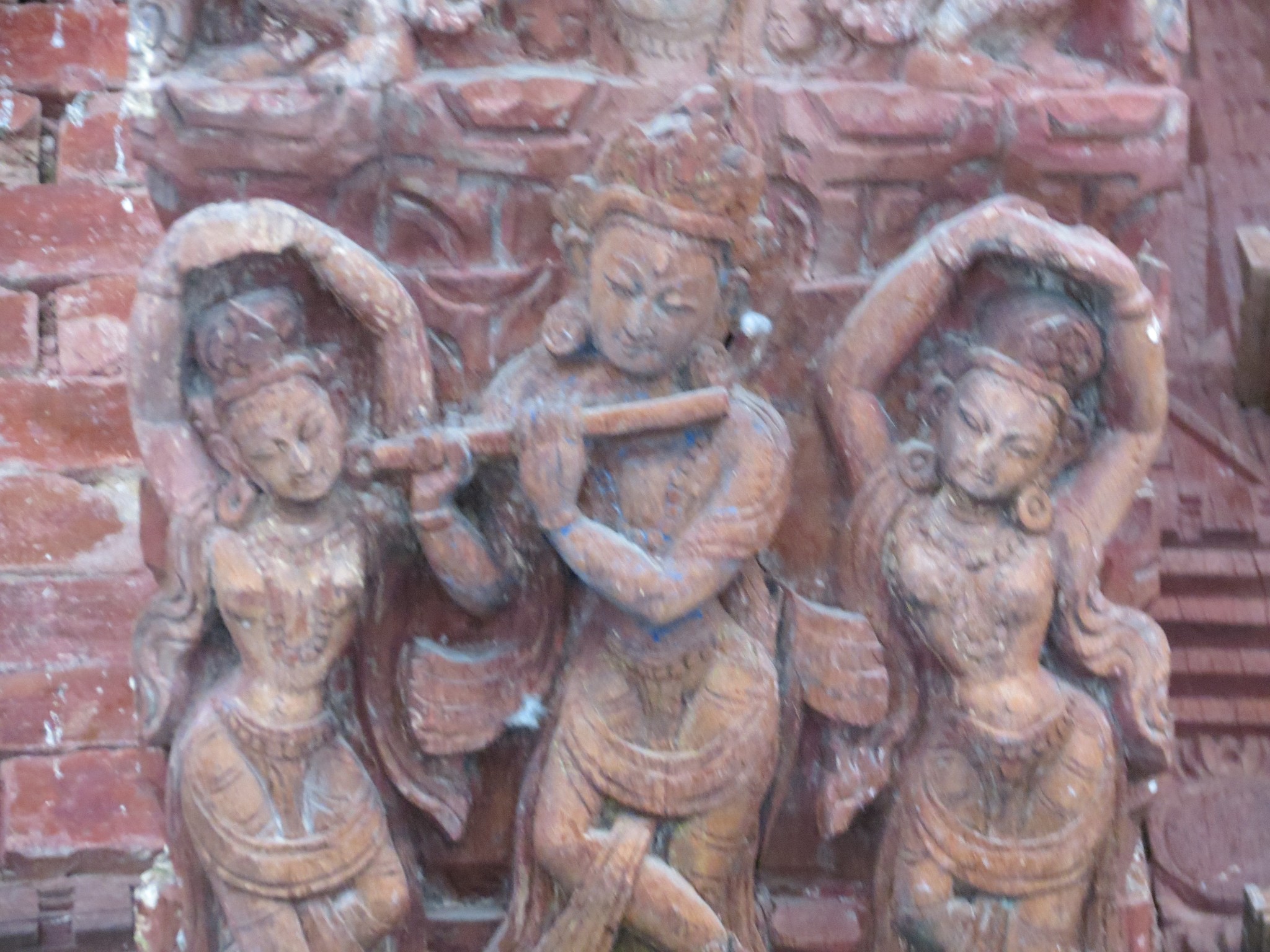 The association of music to Krsna began in the most amazing manner. It had been less than a month since I had met my KrsnaGuru. I had invited my Master for the Ganesha festival in September of 2009 for lunch at my place.
Ganesh Chaturthi being the first festival of the season, it has been a practice in my house of celebrating the festival with great pomp. We used to invite friends and relatives to come over to exchange good wishes and distribute prasad (offerings) especially modaks, followed by the rendition of a beautiful marathi aarti called 'Sukhakarta Dukhaharta' composed by a very famous Saint 'Samarth Ramdas' from 17th century.
Ganesha is also known as Vignaharta – Vanquisher of obstacles. I wanted my Krsna to grace us with a visit to my home on this auspicious day. It is an amazing revelation, as I am penning these words that every prayer begins with first offering it to God Ganesha. I am so blessed that my KrsnaGuru, first graced us with his presence on this day. I offered my first pooja and veneration to my #KrsnaGuru. I have no words to describe this wonderful experience which I am being teleported to.
It was time for my KrsnaGuru to take leave and I went to drop him off. As I was driving, there was a song playing in the back-ground. Suddenly I increased the volume and told him this is one of my favourite songs – The song goes like this, "aaya re tera dil ko churane, aaye re tuje apana banana". This means, "Someone has come to steal my heart away, someone has come to make me his/hers". You can listen to the song here: ( https://www.youtube.com/watch?v=MbCfvkydyVc ).
When I started singing this song, my Krsna asked me to associate this song to the Lord and every word was so appropriate at that moment in time. It left me speechless and spell bound – how it so aptly expressed the emotions and feelings which I felt for me Krsna within my heart. From then on every single song which I listen to, I began to associate with Krsna.
I wasn't adept at being able to interpret the exact meaning of the lyrics in some of these most beautiful Sufi (and other) songs in the different languages. My KrsnaGuru has a very beautiful and sweet voice. He truly is the Master of all Arts (whose presiding deity is Goddesses Saraswati herself). He would sing all these wonderful songs to me and explain their meaning. I will listen to him with my heart totally immersed in oneness, with Love and Devotion, feeling a deep sense of reverence for Him and completely losing my physical awareness.
Even today, he sings to me some of the most enchanting Meera Bai's bhajans and his all-time favourite songs, be it devotional, love songs, Sufi songs or songs by various singers, explaining the profound and in-depth meaning of these lyrics. He imparts the knowledge of how to perform loving devotional service to the Lord and express one's Love and adoration for Krsna.
Since then the association of music or any song in my life has been only to express or communicate my innermost feelings of love and devotion for my Krsna. To add to my bewilderment, every song which I offer in reverence to my Lord will exactly convey the meaning of the lyrics which is my heart's innermost expressions at that moment in time.
However, I have been a great disappointment to my KrsnaGuru in the Arts. I have never been able to perform the art (Bharatnatyam – classical dance) which I have learnt since the age of 4 and of course singing has been out of question, as I believe that I do not have a good voice! The reason why those who are on the path of Bhakti (Love and Devotion) are engaged in either singing beautiful songs, or writing poetry or dancing or even writing about the sweet past times of the Lord is so they can develop devotion to the Lord and attain Prema for Krsna.
The state of complete devotion cannot be so easily attained. Hence, in order for one to develop the devotion, one has to begin by subjugating the mind, body, senses, and ego. This is possible only when you engage your mind to practice any of the above prescribed methods. Whenever Krsna has asked me to perform for him I have always given the excuse of not remembering what I have learnt and this is not a good thing to do as a Spiritual being.
Krsna, I entreat your forgiveness and surrender myself unto Thy feet for you to bestow your grace upon this meek and lowly being who is Thy humble maid-servant. Only by your benediction will I be able to dance to Thy tunes and for you sing with all my heart Thy Praises.
With the grace of my Master I have been able to pen this most wonderful experience in a string of words. Thank you for reading and do watch out for my next write-up about 'My first fight with KrsnaGuru '.